Sale!
Description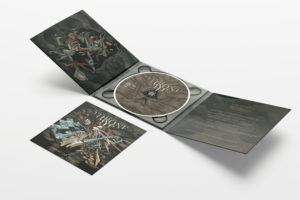 CONTAINS / CONTENU:
– 1 CD DIGIPACK (3 parts) / Digipack CD 3 volets
– 1 Signed Postal Card / Carte postale dédicadée
– 1 Download Card
– 1 Sticker
Vowed to Decline is the culmination after years of introspection. Drawing its origins from traditional extreme scenes (Enslaved, At The Gates…) as well as more recent and innovative movements (Der Weg Einer Freiheit, Deafheaven…), the album offers a unique and unprecedented vision, mixing death metal gimmicks and black metal influences to a wave of melancholy, peculiar to our time. The resulting music is intense, intimate and unbridled.
Artwork by Costin Chioreanu (At The Gates, Septicflesh, Enslaved, Ghost, Emperor, Triptykon…) / Mastered by Victor "V. Santura" Bullok (Triptykon & Dark Fortress) at Woodshed Studio (Celtic Frost, Obscura…)