Sale!
Description
Place pour le concert de DEFICIENCY (Melodic Thrash Metal) + DEATHAWAITS (Modern Death Metal) + PRAETOR (Thrash Metal) au Théâtre de la Médiathèque à FREYMING-MERLEBACH (57) le 8 octobre 2022. Release Live pour la sortie de l'album "Warenta".
Nombre de places limitées !
10 € (+ 0,50 € de frais de gestion Paypal) en pré-vente à la place de 13 € sur place.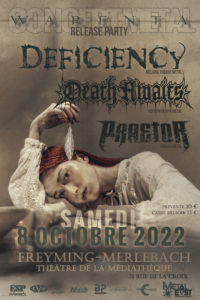 Renseignez votre nom, prénom, adresse et e-mail au moment de la commande, et vous serez inscrit sur notre liste pour l'évènement !
Une pièce d'identité vous sera demandée sur place à l'entrée afin de vous délivrer votre/vos billets.
+ d'infos sur l'évènement Facebook.
EN :
Ticket for the Release Party show (DEFICIENCY + Guests) at Théâtre de la Médiathèque, FREYMING-MERLEBACH (FR) on Oct 8th 2022.
Pre-order 10 € (+ 0,50 € Paypal fees) instead of 13 €. Limited quantities !
Leave us your name, adress and e-mail while ordering and the ticket(s) will be delivered directly at the venue entry the night of the show. Please, make shure to bring your ID card !